B4TWELVEs HUGE SAT EVENT w/ Nations #5 www.DJScottyBoy.com!
---
flyer:
http://i269.photobucket.com/albums/jj76/topnotchsf/Statementflyer.jpg
FACEBOOK me: John Farhang

Host: www.TopNotchSF.com & Playboi
Type: Party - Night of Mayhem
Network: Global

Start Time: Saturday, October 10, 2009 at 10:00pm
End Time: Sunday, October 11, 2009 at 2:00am
Location: B4TWELVE (PALO ALTOs #1 VENUE)
Street: 412 EMERSON ST
City/Town: Palo Alto, CA
View Map
Yahoo

Phone: 4083189950
Email: VIP@TOPNOTCHSF.COM



SATURDAY, OCTOBER 10TH!
www.TopNotchSF.com
TopNotchSF Group In Association
With John Farhang & Joseph Pb Presents;;;
[ With B4TWELVE SINCE AUGUST 2007 ]
(thanks for the support!)
Presents

"Statement"
The Act Of Declaring

TopNotch Entertainment's notorious 2nd Saturdays are known in the Peninsula for consistently bringing the #1 DJ Entertainment & Events in the Peninsula Inside B4Twelve since day one in August 2007! Bringing in #1 San Francisco DJ Names & Top Talent From Las Vegas size venues the like of: DJ Scene, DJ Shift, DJ Donovan, DJ SlickD, Momentum, Forty Wayne, and now….
the Number 5 DJ in the United States -
www.DJScottyBoy.com (check out his site!)
Rockin the Main Room & SkyLounge Patio All Night!



Long Long Long Time TOPNOTCH RESIDENT & Family:
My Favorite DJ Momentum

Definition - The Force of Movement. MoMentum Stamped in the Industry with His Talented Ear and Force on the Dancefloor. Mixing up and Down the Coast of Cali & Nevada for the Premier Nightclubs and Trusted Top Fortune 500 Companies as Motorola, Pioneer & CocaCola. MoMentum has Brought his Love of Music Front-and-Center onto the San Francisco, San Jose, Hollywood, Los Angeles, San Diego and Las Vegas Club Scene Since 1998: Cutting, Scratching, and Mixing his Own Way, Creating his Own Signature Style that Lead him with Upcoming Gigs in New York, Chicago, Hawaii and Dubai. MoMentum is Big in the International Scene Where he Has Collaborated with Huge Pop Stars and Talent Across the Continents in Concert Tours, Video Shoots and Production. He is No Stranger to his Passport - Working with S.K.A.M, Undisputed and Deckstar and Crooklyn Clan Artists, MoMentum is the Most Trusted Sf Dj to Welcome Out of Town Guest DJs as He is Well Known for Electrifying the Dance floor All with Maintaining proper DJ Etiquette. He is All About a Remix All About a Smash Up Using an Arsenal of Different Genres of Music to Keep Your Body Movin n Groovn.. MoMentum is Proud to Reveal his Sponsorship with the "Five Four Clothing Co" and publicly announced after several months of dealings, that he is now an Official Coca Cola Sponsored Artist. This all just adds more jewels to his crown where he remains one of San Francisco's most sought after, respected, well liked and versatile djs. Check em Out @ www.myspace.com/djmomentum SF Gigs - Ruby Skye - Slide - Vessel - Apt 24 - Roe - Otis Lounge -Infusion Lounge - Icon - Myst -111 Minna - 1015 - Temple - Fluid - Boss - Circilo - Butterfly - Whisper - Insomnia - Body Shop - Supper Club Bubble Lounge - Velvet Lounge - Zebra Lounge - Redwood Room - The W - Tabu - Dirty Martinis -

For The 1st Time In the Main Lounge:
DJ & Promoter
Playboi of Playboi Presents


the Mad Scientist MasterMind Behind RockStarSF.com
& the Infamous "Blowfish" Santana Row Wednesdays,
Catch The Long Lasting Event Planner & DJ in the Southbay
Electrifying the Main Room This Saturday Night!
1st TopNotch Event with Many to Come!

B4TWELVE
412 EMERSON ST
PALO ALTO, CA 94301

FIND US ON MYSPACE:
www.TOPNOTCHSF.COM
FACEBOOK:
www.facebook.com/TopNotchSF

Catch two of the craziest Rockstar Djs this Saturday Night!
$5 before 11 guestlist:
VIP@TopNotchSF.com
Bottle Service:
VIP@TOPNOTCHSF.COM

John Farhang


FACEBOOK ME: JOHN FARHANG

TWITTER: PERSIANJOHN




WWW.DJSCOTTYBOY.COM
PROMOTER:
WWW.TOPNOTCHSF.COM
B4TWELVEs BIGGEST SATURDAY
IS EVERY 2ND SATURDAY
W/ TOPNOTCHSF!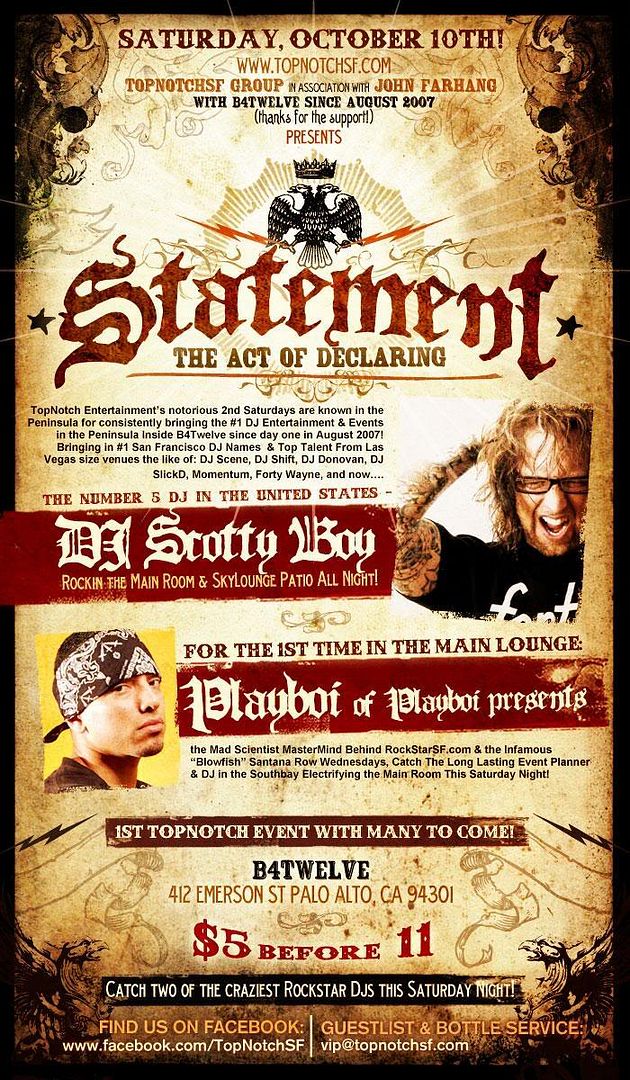 **DONT MISS OUT ON B4TWELVE THIS SATURDAY NIGHT!!!**
$5 GUESTLIST BEFORE 11 EMAIL: VIP@TOPNOTCHSF.COM
CELEBRATE YOUR BIRTHDAY WITH US!!!